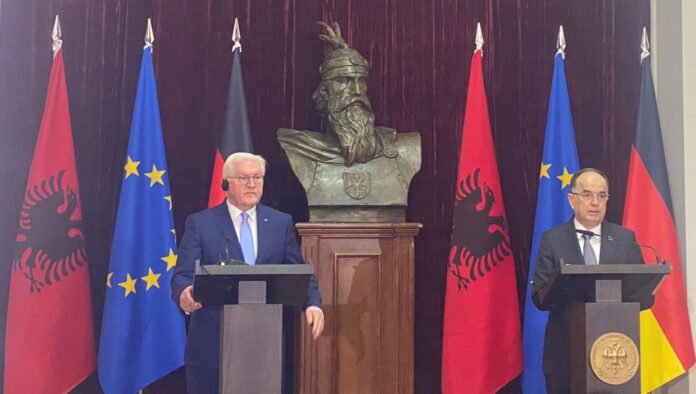 Presidenti i Shqipërisë Bajram Begaj ka pritur sot në Tiranë me nderimet më të larta Presidentin e Gjermanisë Frank-Walten Steinmeier, në vizitën e tij të parë zyrtare në Shqipëri. Presidenti gjerman deklaroi në një konference të përbashkët për mediat se "Shqipëria do ta pasurojë Bashkimin Europian."
"Duhet të mbajmë në konsideratë, takimin mes BE dhe vendeve të Ballkanit Perëndimor. Nuk bëhet fjalë për Samit ku do të ketë vendime të caktuara. Por do të jepen inkurajimet e duhura për të vijuar rrugën drejt BE. Shqipëria dhe RMV janë vende që duhet të shfaqeshin me krenari në këtë proces", tha Presidenti gjerman.

Po ashtu presidenti gjerman theksoi se lufta kundër korrupsionit dhe krimit të organizuar është vendimtare për anëtarësimin në BE.
Gjatë fjalës së tij, Presidenti Begaj tha se për procesin e anëtarësimit në BE, secili vend duhet të bëjë detyrat e tij.
"Vendi ynë duhet të punojë ngushtësisht me të gjithë partnerët. Nuk besoj se ka një kohë që mund ta përcaktoj unë, por besoj varet nga puna e secilit", tha ai. Edhe në këtë takim u tha se një prej detyrave më të rëndësishme në rrugën drejt anëtarësimit të Shqipërisë në BE është lufta kundër korrupsionit. Presidenti Steinmeier në Tiranë do të takojë edhe autoritete të tjera.