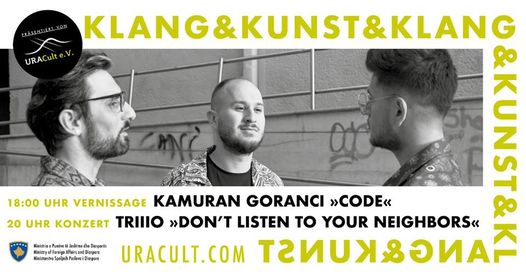 Dy ngjarje të bukura kulturore mund të shikohen dhe dëgjohen të shtunën më 10.12.2022. në "Alte Pfandhaus" në Këln në organizimin e shoqatës kulturore URACult. Së pari, në orën 18h do të hapet ekspozita "Code" e artistit kosovar Kamuran Goranci. Në vazhdim, në orën 20h fillon koncerti i grupit "Don't listen to your neighbors", të cilin e përbëjnë Adhurim Grezda (vokal), Dalvin Mamusha (violinë) dhe Endrit Xërxa (kitarë).
Tre muzikantë nga Gjakova kanë krijuar një stil unik të cilin e karakterizon kombinimi i muzikës tradicionale shqiptare me elemente të xhazit. Në fund të korrikut, ky grup prezantoi albumin e tyre të dytë (Udhëtim në kohë) në Prishtinë, në kuadër të Festivalit RLIOF. Pas disa koncerteve në rajon, si dhe në Zvicër dhe Austri, grupi "Don't listen to your neighbors" do të prezantohet tani edhe në Këln.

Do të jetë kjo, pa dyshim, një mbrëmje e bukur kulturore e shoqatës URACult, e cila u tregua tashmë si organizatore e suksesshme e takimeve dhe ngjarjeve, ku prezantohen vlerat kulturore të artistëve nga Kosova, Shqipëria dhe rajoni.